I finally, finally got to go on a therapy cat visit — my first in over a year! It was a women's home that was a little farther than my normal visit. But my human said yes because 1) they wanted a kitty, and 2) it sounded pretty low key. It seemed like a good reintroduction into therapy work.
Other than it being a women's home and that the visit was outdoors, we weren't sure what to expect. We didn't know the ages of the women, or what the facility was like. It wound up being as low key as my human expected. The backyard area where they set up the visit was secluded from the street. The other therapy team included a nice dog named Charlie that I have worked with before.
The women we visited turned out to be mostly middle-aged. That was awesome because there was no drama, like there can be with teens. I don't know why they were at this shelter — we rarely know details about the facilities. The important part was that they enjoyed seeing me and Charlie. As far as how well they knew cats, it totally varied, from women who had to ask my human how cats liked being petted, to one woman who lived with a menagerie when she wasn't at the facility. Several women had dogs, but they stayed inside during the visit.
The staff set up a table, and my human put me and my round Sleepypod carrier on it. The women could easily pet me there, and pose for Polaroid photos with me. But after a while I wanted to explore! So I jumped down, and my human let me walk a little on my leash before bringing me back to the table. And when it started getting a little hot in the sun, we sat in the shade.
Eventually the women began returning to their daily activities. As the visit slowed down, I went over to my Sleepypod and relaxed. I had a really good time, and I'm sure I will be back.
Other posts you'll enjoy:
* * *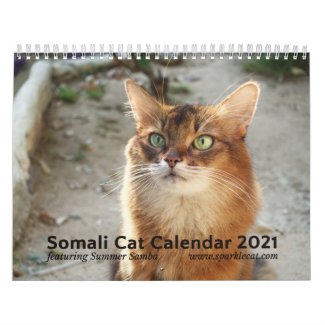 2021 Somali Cat Wall Calendar, Starring Summer
See all of Summer's merch at her
her Zazzle Designercat Shop