My therapy visit yesterday was at one of my regular hospitals. It's a popular facility in our therapy organization, so there were two dog teams along with me. They were both nice dogs, but I have something to offer they don't: purrs and happy paws! Those just aren't dog things, but they are part of my therapy cat equipment.
The first patient I visited was a middle-aged woman who had her family with her. They were all exited to see me, and none of them spoke much English. But my human understood the woman when she said they had "dos gatos," and was able to reply she had "tres." I had lots of fun visiting with them, and even did a high five.
We almost missed the next patient because my human thought he was sleeping. He wasn't, he was just under sedation, and he wanted a visit. So I stretched out on the bed and purred and did my happy paws while he chatted with my human. He forgot words a couple of times, probably because of the meds, but it didn't matter.
Although I usually prefer being on the bed with patients, one guy was sitting up in a wheelchair, so my human pulled a chair over for me to sit on while I visited with him. It turned out he once lived in the same part of town as we do. He asked about a burger joint he used to go to, and it was the one right down the street from us. I liked this man, even though I didn't get to snuggle with him the way I like. He loved cats, and I saw that the other cat in our program, Josie, had visited with him earlier in the week.
The last person we visited on that floor was an older lady with a bunch of tattoos. She was a real character! She talked a lot, loudly, and kept petting me in the roughest way you could imagine. I didn't mind though, because I knew she meant well. That's the thing about humans. Even if they don't know how to pet a kitty properly, it's really okay if their intention is good. At least that's my opinion as a therapy cat.
The last patient I visited was a happy accident. My human and I got off the elevator, and there was a woman in the hallway wearing a visitor badge. When she saw I was the therapy cat, she wanted us to go to her son's room. The two dog teams had already been there and told her that there was also a cat team. So we went to her son's room and had a really nice visit.
I don't know what was wrong with the young man, but he was very, very sick and couldn't sit up by himself. But he still wanted to pet me. (He was a lot gentler than the loud lady from earlier!) His dad was there, along with his mom, and they had stories of their cats from before. Like one who didn't even belong to them, but who decided to have kittens under the son's bed. That was a long time ago, because they told me the kitten they kept lived to be 18. They were a real nice family. I hope the young man recovers soon.
* * *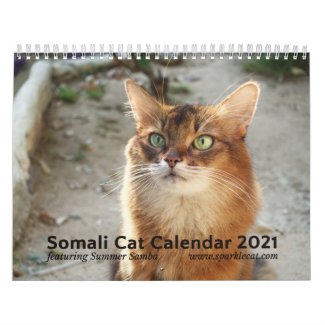 2021 Somali Cat Wall Calendar, Starring Summer
See all of Summer's merch at her
her Zazzle Designercat Shop