As you know, either right before or right after a therapy cat session, my human takes a few quick photos of me so I have one to use with the blog post. Well, our quickie photo session for Thursday turned out to be pretty silly! My human didn't get a useable shot until nearly the end. But in the meantime, she came up with the photos below.
Here's my squinty-eyed look.
Then I went from squinty to winky. Well, sort of.
Then I went from winky to whiny.
Then I finished up with the Tongue of Disrespect! A couple of shots later, we got the photo you saw yesterday. My human didn't even realize how ridiculous most of these were until she was uploading photos that evening!
I hope you enjoyed my therapy cat outtakes!
* * *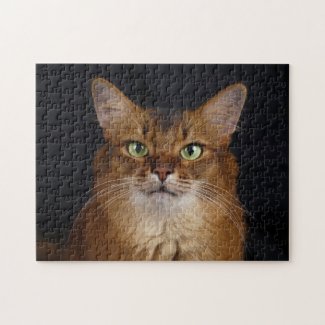 Somali Cat Photo Portrait Jigsaw Puzzle
See all of Summer's merch at her
her Zazzle Designercat Shop