When I visit the hospital on Thursdays, it usually means I'm mostly visiting kids, and that's how it went today. First I went to Pediatrics section. The first patient was a boy with his mom there. He was very nice. My human wasn't sure where he was hurting, so she started off by putting me beside him on the bed. But the mom reached over and placed me on top of him, and I could pretty much go where ever I wanted. I wound up lying between his legs, because that was the most comfy place! I had a nice time with him, and I may have dozed off just a little.
The second patient in Pediatrics was a young teenage girl, and she loved visiting with me. The feeling was mutual. I even did a high five for her. She is a cat lover, but she said that at the moment her family had two pitbulls. The funny thing about them is that they are deathly afraid of the neighbor cat! Like many pitbulls from good homes, they are actually very nice, and the girl is hoping she can convince her mother to adopt a kitty.
These two patients took up a lot of time, and the other patients on the floor either were allergic or not up to seeing me. So we headed for the Rainbow Room, which is a regular Thursday stop for us. I don't know if you remember, but the Rainbow Room is the waiting area for developmentally disabled children who are outpatients. You never know what is going to happen there, and this time, we got a bunch of crazy kids! Actually the first boy was nice, but his younger sister was raucous and a little out of control. Then my human was trying to take a photo of me with the boy, when another boy from a different family kept sticking his head in the photo.
Finally, we got a chance to visit with the interrupting boy and take a photo, and he was nice (all the kids were nice, really), but exhausting. So was the next little girl. She started off crying, but getting to pet me cheered her up pretty quickly. She was all over the place, though, and my human had to keep an eye on her to make sure she didn't handle me roughly or try to squeeze me. The first photo my human took of us didn't work, so we had to try again, except she kept putting her legs in the air and grabbing her feet. Well, she was about three years old, so she didn't know about posing, even though I did. Eventually, my human got the shot. But when we finally finished with the Rainbow Room kids, both my human and I were pretty tired!
When we come home from these therapy cat visits, especially the more stressful ones like today, my human and I have completely different ways of decompressing. All my human wanted to do was take a nap. I wanted to play, and spent a long time tossing my pipe cleaner and my bouncy ball around! When I'm done with a visit, I just put it behind me and become a regular kitty once again.
* * *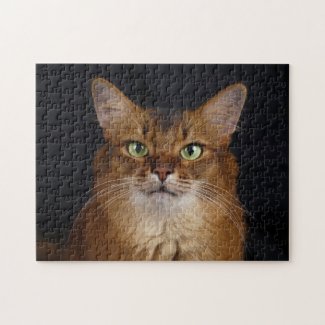 Somali Cat Photo Portrait Jigsaw Puzzle
See all of Summer's merch at her
her Zazzle Designercat Shop