I usually don't do cat shows and therapy cat visits back-to-back — my human doesn't want to overwork me — but because of her schedule this month, it couldn't be avoided. And you know what? I was totally ready to work today! I'll tell you all about the cat show tomorrow.
My visit today was to one of my regular hospitals. I was the only therapy animal, so I could walk freely on my leash… well, except when my human thought I was walking in the wrong direction! I thought it was going to be a slow day at first. Most of the patients in the first area I visited were in isolation, and we couldn't go in those rooms. But I did find one woman with bandaged legs who wanted to see me. She happily let me lie down next to her while she told my human about the pets in her past. They all used to share her ice cream when she was a little girl. Her apartment doesn't allow pets, but she was thinking of getting a service dog — the apartment would have to allow that.
Things picked up on the other half of the floor. I was really in demand, with both the staff and the patients. First I saw an older man, another animal lover. He thought that bringing therapy pets into the rooms was a great idea for the patients, and he totally understood our healing qualities. I spent a lot of time with the next patient. She was so excited to see me! She petted me and chatted while her husband napped nearby. "I'm gonna have my chest cracked open tomorrow," she told my human, and then went on about her dogs at home, and how she has always had pets, even when they were homeless and living with her family. Our visit only ended because the doctor and nurse came in. The doctor was explaining everything that was going to happen with the woman's open heart surgery the next day. It sounded pretty gruesome. My human stayed for a few moments until she could leave gracefully, to let them have privacy.
I had a very fun visit with a patient and her daughter. The patient was sitting up in a chair, and the daughter was talking to her brother in France on FaceTime. She brought the phone up to me so he could see me… and I could see him! I had a really good time with them, and I think the feeling was mutual. I'm glad the last patient I saw was with her family — she was blind and I don't think she spoke English. If her family hadn't been there to explain my presence, we might not have been able to visit. But when she heard I was there, she held out her hand to pet me. I liked her and curled up next to her. "Just like a cat!" laughed one of her family members.
On our way out, a couple of Spanish-speaking visitors were sitting by the elevator and they were excited to see me. My human put me on the couch next to one of the ladies, who petted me and said, "¡Que lindo!" It was a nice end to what turned out to be a really enjoyable and busy therapy cat visit.
* * *
---
---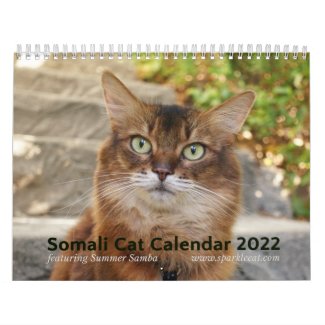 2022 Somali Cat Calendar Starring Summer Samba
See all of Summer's merch at her
her Zazzle Designercat Shop