I tried being a therapy cat the other day and it did not turn out like I expected. I'm kind of embarrassed. Especially since I'm very familiar with who I was trying to be therapeutic to.
It was Binga! She has not been eating well and hasn't been herself for a few days, so my human took her to the vet. She convinced her boyfriend to come too so she could bring me along in my sling. She tries to take advantage of any chance she has to take me somewhere, especially places that are noisy and hospital like. The vet clinic was perfect. Plus I could keep Binga company, if she wanted it.
It all started off well. I tried to make Binga feel better about being at the vet's. Don't tell her, but I was thinking to myself that I was so relieved I did not have to have my temperature taken!
I kept an eye on her for a while.
And then it started going all wrong. Every time somebody new came in — the vet or one of the vet techs — they would look over at me, sitting all politely in my pink harness and make a big deal out of me and tell me how adorable I was! And my human kept having to interrupt and tell them I wasn't the patient! They were so focused on me, they didn't even see Binga until my human pointed her out to them. Then they were nice to her too, but the damage had already been done. I totally upstaged the patient, and that is not good therapy cat etiquette.
I felt bad that everybody wanted to talk to me when Binga was the one who was sick. But she did get checked out and tested, and they couldn't find anything. So they gave her an anti-nausea pill and gave my human some injectable famotidine (because it is easier than trying to get a pill down her) to take home. The famotidine seems to perk her up, but I hope she is lots better soon!
* * *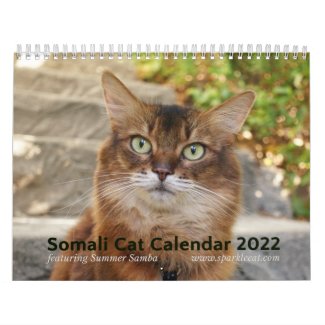 2022 Somali Cat Calendar Starring Summer Samba
See all of Summer's merch at her
her Zazzle Designercat Shop