Because I was out of town last week, it's been a while since I've been on a therapy cat visit! Plus, it's been even longer since I've been to this particular hospital. So I'm glad to be back in action. I was really happy to drop in on the patients. In fact, I was so happy, I visited with the security guard before going up to the patients' floors.
I was the only therapy animal this visit, and it wasn't possible for me to cover both floors alone, but I saw as many as I could.
The first couple of patients I dropped in on had recently lost kitties, so that was kind of sad. The first guy's mother was the one who had lost her cat, and he asked my human lots of questions on where to find another kitty companion for her. Of course my human always recommends the city shelter where Binga came from, because it means they are literally saving a life. This patient also recognized me from a few months ago!
The second patient was an older lady who had a young man visiting, her grandson. The man was talking to his daughter on FaceTime, and she was having a birthday (she's six!). She got to see her "Nana," and me too. That was really fun, and I think the lady is also thinking of getting another cat when she gets out of the hospital.
There was another patient who wasn't interested in seeing me, but the nurse was! He wanted to know how I got leash trained because his sister wants to train her cat. So my human told him how, and gave him some tips to pass along. I don't think the next lady I visited knew how to handle a cat because she petted me in all the wrong ways, but she was so happy to see me, I didn't care. I posed nicely for a photo with her too.
My favorite patient was the last one. He was on the phone when we came in, but he got off right away. "I've got to go," he said into the phone, "I've got a physical therapist who's going to come in and hurt me now." That was funny! Then he spent time happily visiting with me and ignoring the phone the next time it rang. He said he and his wife love cats, but they travel so much it's hard to have one at home. I think it was cool that he preferred visiting with me over his phone calls.
* * *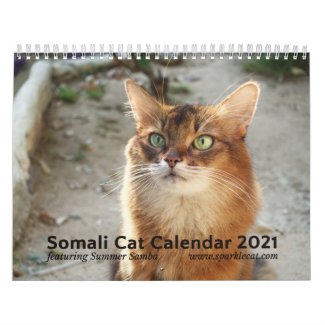 2021 Somali Cat Wall Calendar, Starring Summer
See all of Summer's merch at her
her Zazzle Designercat Shop