Do you remember a really, really long time ago, there was retaining wall construction going on here? It began when Sparkle was still here. It was going on when I came to live here. Finally the wall itself got done, but my human ran out of money to get the rest of the job done. Well, she finally got the money together to finish it, nearly a year and a half later. I checked it all out.
First the workers cut the concrete near the wall so there was a straight line. That was pretty noisy.
Then they took a long weekend off! They left all their equipment so I knew they were coming back. That was when I was out of town in Roseville for my cat show.
They came back finally and poured the concrete, leaving a dirt area where my human wants to plant some climbing vines so the wall doesn't look so generic.
Here are the new steps!
Sadly, by the time I got to try them out, they were mostly dry and I couldn't leave my paw prints. I bet it would have raised the home value if I had!
* * *
---
---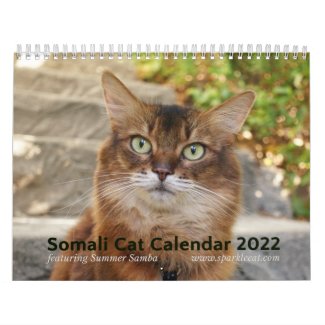 2022 Somali Cat Calendar Starring Summer Samba
See all of Summer's merch at her
her Zazzle Designercat Shop