Sometimes on my outings, the focus isn't getting photos of me. (In fact, don't tell anyone, but I've been to the pet store a few times without any photos being taken!) But usually, my human brings her camera along just in case. And this backyard outing wound up having a photo session of sorts. You've already seen one photo, in fact, in a previous blog post. But it was really more of an un-photo session.
Mostly, instead of taking photos, we just sat around. I did some trick practice.
Then we went around the other side of the bridge to hang out. My human snapped some candids.
Like very candid.
Like so candid, why wasn't this photograph deleted?
A couple of good photos did come out of this outing, even if that wasn't the point.
Other posts you'll enjoy:
* * *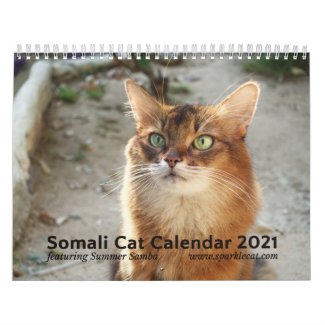 2021 Somali Cat Wall Calendar, Starring Summer
See all of Summer's merch at her
her Zazzle Designercat Shop