I told you the stories behind the first five photos of my Best Nine photos of 2019 yesterday. Now here is the rest of them!
It's possible that Photo Number 6 never appeared on my blog! This was a test shoot. After my human found the unicorn head band, she thought she needed a rainbow tail extension to complete the look, and she actually found one! So she set me up in the turret wearing these and took some photos. This was the only one that turned out okay, and even the outtakes weren't very good. Since there wasn't enough for a blog post, she put this photo on Instagram on May 31. She's tried to do photo sessions with me wearing these a couple more times, but so far nothing has turned out.
I probably don't need to tell you that Photo Number 7 was one of my fifth birthday photos. And yes, it appeared on Instagram, and my blog, on my birthday, March 19. It's hard to believe that I'm already half a decade — and this March, I will be six!
I'm so glad this photo session with Binga wound up in my Best Nine. It was Photo Number 8, and it was Binga's last session. We knew we were going to lose her in the next day or two. The photo series also appeared on my blog on June 28, but you probably know that already.
I was surprised to see Photo Number 9, because I didn't recall it being so popular, but apparently it was! This Instagram post got lots of comments congratulating me because what I'm posing with are the Cat Writers Certificates of Excellence that my human and I won last year! The blog post and the Instagram post both ran on March 27. A couple of the stories that won Certificates of Excellence also went on to win Special Awards at the Cat Writer's conference.
I hope you enjoyed the stories behind my Best Nine photos!
* * *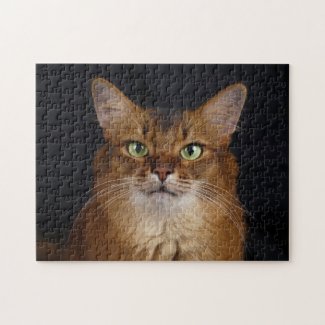 Somali Cat Photo Portrait Jigsaw Puzzle
See all of Summer's merch at her
her Zazzle Designercat Shop