What you see on my blog is sometimes different from what you see on my Instagram! That was obvious when I used an app called "Best Nine" to find my 9 most popular photos of 2019. There were several photos that never appeared on the blog, or appeared at a later date than they did on Instagram. Each one has a story, so I thought I'd tell them to you!
I've numbered the pictures, and to keep the blog from running too long, I'll focus on photos 1 through 5 today, and 6 through 9 tomorrow.
Sometimes on Instagram, I post twice about my therapy cat visits — once the day of the visit, and once the next day, when I also share an abbreviated version of my blog post. Photo Number One is one of the "day of" pictures. It was posted on August 4. The actual visit appeared on my blog and on Instagram the next day. Sadly, this particular hospital closed down at the end of the year.
Photo Number Two is another one that didn't appear on the blog. When Binga passed away in June, we had an amazing outpouring of support, not just on the blog, but across all the social media channels where I'm active. This photo, in which I thanked my Instagram readers for their love and support, appeared there on June 29. My thank you post on my blog didn't appear until July 15, because I wanted to share the cards I got.
Photo Number Three was a fun memory! It's from the day I did my role in the film, Take Me to Tarzana. This photo was on both my blog and on Instagram on May 29. In case you are wondering, they are finishing up post production, so I hope they will have a release date soon!
I did a couple of different photo sessions for Pride Month, wearing my rainbow necktie. Photo Number 4 appeared on Instagram on June 1. It didn't appear on my blog until the next day.
I was really surprised to see Photo Number 5 in my Best Nine! It was a total fluke — one morning my human picked me up and took a photo of me on her iPhone. You can tell I was not really in the mood. But it had a tiny moment of being viral on December 27. That's the date it also showed up on my blog, where it was also pretty popular.
Check back tomorrow for the rest of the photos — I think you'll like those stories lots too!
* * *
---
---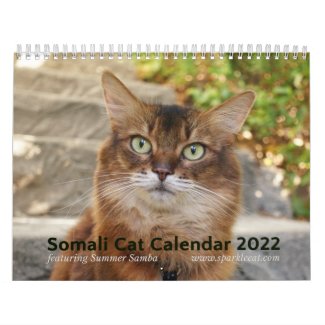 2022 Somali Cat Calendar Starring Summer Samba
See all of Summer's merch at her
her Zazzle Designercat Shop