Remember yesterday's St. Catrick's Day post, where I mentioned my human found a bunch of old decor? Well, that included this pile of St. Patrick's hats. So of course, instead of just tossing them, my human had me wear them.
Let's start with this one, which was a 100 percent fail. It wouldn't stay on my head, and then I started trying to chew the elastic. That was my human's cue to take the hat away from me.
This hat was the wrong size for my head completely. Plus the shiny front piece has words on it that no one can see in the studio light. In fact, it's hard to see in any light.
See what I mean? In case you still can't read it, it says, "I'm a Wee-Bit Irish."
This hat was a little bigger, so I was able to wear it with my ears tucked in. But it looked kind of dumb. Plus my human caught me chewing on the feathers, which was her cue to take the hat away from me.
This St. Patrick's hat wasn't an actual fail. In fact, it is pretty cute, and my human is glad she found it after thinking it was lost. So we are keeping it.
Here is a closer look of this hat on me.
So what do you think? Which one, in your opinion, was the worst?
* * *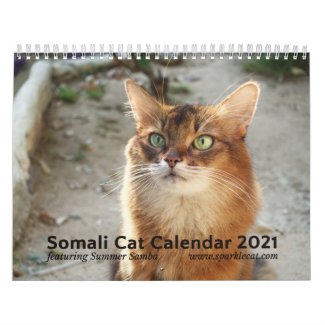 2021 Somali Cat Wall Calendar, Starring Summer
See all of Summer's merch at her
her Zazzle Designercat Shop