Most of you are thinking that the big news of the weekend is the cat show I went to in Roseville, California. But you would be wrong! The really big news is that my human packed my blue sparkle ball for the trip… and I lost it in the hotel room! I was very unhappy about that, so the moment we got to the cat show, even before the judges started looking at us cats, my human hunted around the vendor booths and replaced my lost toy with a red sparkle ball. So tragedy was averted.
I also had visitors! Christy Paws' human stopped by again (I also saw her in Livermore), this time with a friend, and so did Gidget's human! That was a fun surprise because we weren't expecting her. Christy Paws' human found a couple of new cat toys, one of them made out of real fur! My human waved it over my nose to see my reaction, and it woke me from a dead sleep! I thought a critter had made its way into my show enclosure!
For this show, I had another Somali to compete against, and it was something very different for me! I'm number 161, and Mischief is number 162 on the far right. She is a little older, and was a Grand Champion (unaltered cat) before becoming a Grand Premier (the altered cats, like me). We look a lot alike! She is just a little heavier, and her fur is more reddish, like Sparkle's was, whereas mine is a little more mahogany. But the special thing about Mischief is that the woman showing her is a trainee judge! Part of the training for a cat show judge is to show different breeds of cats, and she got to borrow Mischief for four shows. Both Mischief and the judge trainee were very nice and fun to show with. Mischief was very flirty, and I was a little bit cranky in some of the rings… so she got some brownie points for that.
Even though I was not in my best temper in the rings, I still had fun entertaining my guests and hanging out. I'm really excited about next weekend's cat show, when entertaining and visiting is all I have to do!
In the end, I got Best Somali in half the rings, and Mischief got it in the other half. Two of the times Mischief got Best Somali, we both wound up in the final because, well, we are both really good cats! Having two of the same breed in a final only happens when the judge really likes both cats. I wound up with four finals altogether.
Going home was fun! The Sacramento airport was pretty quiet, and I got to relax and hang out. My human even brought out my new red sparkle ball.
Between visiting people and making new friends (not "bothering" them, like my human claims), I played with my toy.
There was also an awesome window ledge from which I could watch the planes come and go! I'm looking forward to my next plane trip, which I hear is happening in just a couple of weeks.
* * *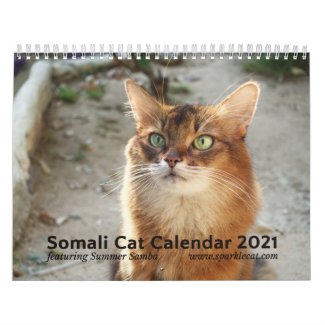 2021 Somali Cat Wall Calendar, Starring Summer
See all of Summer's merch at her
her Zazzle Designercat Shop