It's been a few weeks since I shared random outtakes with you… and I noticed they had piled up!
Sure, I figured out how to rock a fashion boa, but there were a few rough spots along the way. I'm surprised none of the photos turned out worse than this one of me looking a bit annoyed.
I think this is what they call a "derp" face.
While we were outside, my human thought it would be cool to take my photo from above. I didn't agree so we wound up with this.
Some of you are always praising my human's photography, so I thought I'd include this shot to prove that sometimes she gets it really wrong! Even worse, she had just finished bathing me and I was wet! That was a waste of a photo.
I believe I was waiting for a treat here.
Is it just me, or does my niece Billie look like she is trying to wear this cat toy like a mustache to you too?
And here's one of Boodie, who decided to shake her head just as my human pushed the shutter button. Can you believe there are no outtakes of Binga for March? I think we used all the outtake-y ones in actual blog posts.
* * *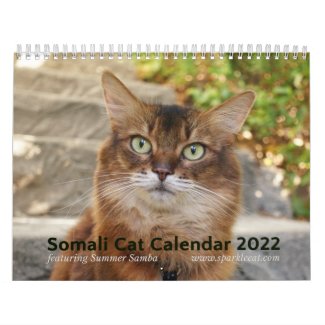 2022 Somali Cat Calendar Starring Summer Samba
See all of Summer's merch at her
her Zazzle Designercat Shop