Many weeks ago, my human saw a video of a dog wearing a spider costume and scaring people, and she thought it was hilarious. In fact, she thought it was so hilarious that she found the costume and bought it for me. Then she promptly forgot about it… until a couple of days ago, when a package arrived after what was apparently a ride on a slow boat from China. Needless to say, it did not look anywhere near as impressive as it did in the video.
So here I am in this not so amazing spider cat costume. Did I scare you?
How about if you see me from the side and I give you the one ear of judgement?
I guess I will jump down from the table and go looking for frightened humans to chase.
I get the feeling that spiders don't have big, fluffy tails.
I guess I am too cute to be a scary spider!
* * *
---
---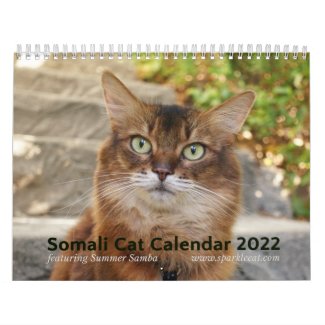 2022 Somali Cat Calendar Starring Summer Samba
See all of Summer's merch at her
her Zazzle Designercat Shop