My human got an Amazon Prime delivery this weekend! Those are always exciting days because I can't wait to see what's inside. She often gets really cool stuff. A couple of times, she's even gotten a new dress for me!
When it was time for the big reveal, I couldn't wait. I dove right in!
Only to discover that this was the most boring Amazon Prime delivery ever. Like, really sad.
Let's see. Dental floss (my human is trying a different kind she couldn't find in a store). Gloves, since they were sold out at Smart and Final because people are panicking over some virus thing. (She uses them to clean my litter box.) And collapsable strainers, so she can throw out the ugly old one that is cluttering up her utensil drawer. Not even a cute cat dress anywhere.
At least we can have box games now until this gets tossed into the recycling bin.
* * *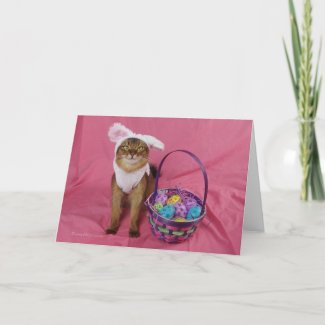 Hoppy Easter Somali Cat Holiday Card
See all of Summer's merch at her
her Zazzle Designercat Shop