You are probably wondering whatever happened with my concrete table. After all, it's one of the main areas I usually pose on, and it's been broken since late May.
It's fixed! The base came in a little over a week ago, and my human scheduled it to be delivered on Friday.
You have no idea how happy this makes me. My human too, because she is hoping to have her birthday dinner out here next week.
It needs to be cleaned up a little bit first, though!
I really am happy to have my table back. Maybe I can bring my piano back out here too. My human and I never did finish the video shoot we had planned out here.
The possibilities are endless!
So now you are probably wondering what happened to the broken table base.
It's sitting by the curbside, waiting to be picked up, probably by our usual city trash collectors. If they can't handle it, then my human will have to hire somebody to take it away.
So that's the end of the concrete table saga!
* * *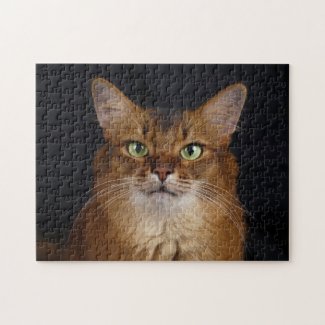 Somali Cat Photo Portrait Jigsaw Puzzle
See all of Summer's merch at her
her Zazzle Designercat Shop