One of my newer cat blogging friends, Sherkhan, graced me with this new award a few days ago. Thank you, Sherkhan!
Those of us who have this award are supposed to list five things that make us happy, and then pass it along to six other kitties. Darn — I was kind of hoping I could list five things that annoyed me! That would have been even more fun. But I'll follow the rules and list five happy things:
Bug sushi
Freshly grilled salmon
Twist ties
Getting to explore the upstairs part of the bedroom wing of my house (I'm not supposed to go there)
When my human's fiancé leaves town and I get to sleep on his pillow
Now for six kitties to pass this along to:
Wow, I have kitty pals all over the place! I think we cats have already achieved world domination!
* * *
---
---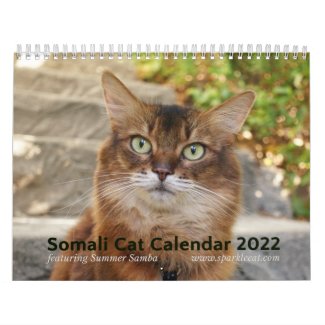 2022 Somali Cat Calendar Starring Summer Samba
See all of Summer's merch at her
her Zazzle Designercat Shop