Lots of times, when my human goes to the pet store, she brings home something for me to wear. This hat with the kitty sized sunglasses was the latest thing she found. Since we're back to lots of sunshine here in southern California, it seemed like a good choice, at least at first.
Now that I'm wearing it, though, I am not too sure about this sun hat! I don't think it's really me. Do you? I feel a little silly wearing it.
Even my usual trick of pushing it off to the side and letting one ear peek through isn't working.
Maybe ditching the hat and just wearing the sunglasses will work better. I could perch them on my forehead as a style statement.
Or I could just wear them over my eyes, like they are meant to be worn! All the celebrities wear fashionable sunglasses, right?
I guess this means I really am a star!
Go away, paparazzi — you have taken enough photos.
* * *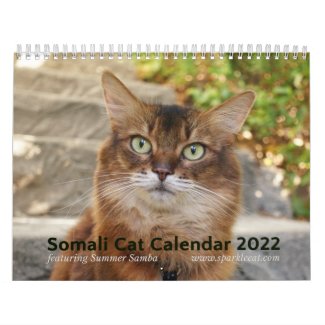 2022 Somali Cat Calendar Starring Summer Samba
See all of Summer's merch at her
her Zazzle Designercat Shop