Wasn't I surprised to see these photos on my human's iPhone! I'd almost forgotten about this pet store trip, and really, it was only a few days ago. But since I'd also been on another pet store run, and visited this store already earlier this month, I totally spaced on even being here. I really wish I had other fun places to go besides pet stores. But there's not a lot available for kitties to visit at the moment.
There's always lots to see here. I just wish the scratchers weren't wrapped up so I could give them a try! (What is this "you try you buy" that you speak of?)
There are always good smells to be had too!
I lucked out too — the store was dog free while I was there so I got to explore some of the dog section!
There were some really awesome smells there! Sadly, I didn't see any turkey tendons.
That was a fun trip! The only part that was kind of sad was that, while I had admirers, I didn't get any pets. People are trying hard to socially distance themselves again.
* * *
---
---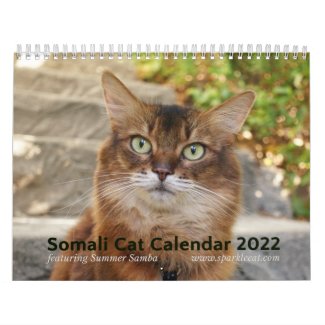 2022 Somali Cat Calendar Starring Summer Samba
See all of Summer's merch at her
her Zazzle Designercat Shop