Smokey is a beautiful longhaired black kitty who belonged to my human's father. She is probably about 11 years old, but still playful. And she's very lonely and scared right now because my human's father died yesterday.
My human loves Smokey a lot (although I will say I hear the feeling's not completely mutual), so she immediately went over to the assisted living facility where her father was living and fetched Smokey, the cat tree she bought her, and her leftover food (except for the dry stuff — "You're only getting wet food from now on," she said), and brought her home. Right now, Smokey is in a part of the house that can be shut off from the rest of us kitties, and she's hiding under a bed. My human checked on her, and she did eat some of her dinner.
She will calm down in time, I'm sure, but this is the third time in less than three years that her life has been disrupted. First when my human's father moved back to Los Angeles from the Central Coast, and again a year later, when he moved into assisted living. Now, Smokey has lost her human altogether.
Like I said, my human loves Smokey and wishes she would be happy here… but she has to be honest and admit that this isn't the ideal living situation for her. Smokey really needs her own human and she won't have that here. Binga and I own the humans here, and Boodie does not mind being the extra cat. My human feels bad that Smokey would just be another cat in the crowd, since she thrives on human attention. She's not a mean cat — she is really quite sweet — but she is not all that fond of other cats. Smokey was originally adopted with another cat, and they just sort of tolerated each other. The other cat got cancer died a couple of years ago.
So as you can see, while Smokey will always be welcome in our house, ideally my human would like to see her in a home where she has her own human and lives with just one other cat at the most. She would be perfect for an older, stable human, maybe retired or maybe not. Smokey just wants a human to call her own, pure and simple. She's healthy and active and has many more years to spend with someone. Plus she's beautiful.
If you know anyone in southern to central California who might be suitable for Smokey, please let us know! Although I will warn you — my human will be very careful about whoever Smokey goes home to, and will probably want to visit your home and stuff. Maybe she will bring me along when she does that, so it's not such a bad thing after all!
By the way, my human was trying to figure out Smokey's age, when she came across this photo of her from 2005, when she was a young adult kitty at my human's parents' old house in Los Osos.
That was from Christmas, and it was the same year my human gave my parents a clock with Sparkle's face on it. She has the clock now.
* * *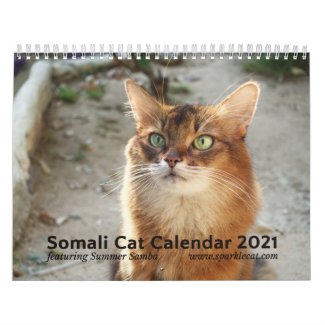 2021 Somali Cat Wall Calendar, Starring Summer
See all of Summer's merch at her
her Zazzle Designercat Shop