Usually, when my human and I do our Fourth of July photos, it's inside with a backdrop. But this year, we went outside. Partly because it's always nice for me to get out, and partly just for a change. We tried a few different things.
We had a package of photo props that my breeder had given us a (long) while back, so we tried a few of them out. This is the first one I posed with.
Then we tried two props. My human insists this would have been nicer if I had been centered between the two of them. But what can I say? I'm a cat, I don't know from hitting my mark.
Of course, my human had to pull out the tiny Uncle Sam hat for me to wear too.
Then we tried no props and just the hat and a festive red, white and blue collar.
So… happy Fourth to those of you who live in the U.S.! Which look do you like best?
Late note: I premiered a Fourth of July vlog on YouTube after I posted here, so here it is:
* * *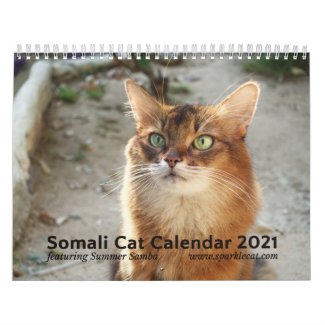 2021 Somali Cat Wall Calendar, Starring Summer
See all of Summer's merch at her
her Zazzle Designercat Shop