The miracle is that my human got the Christmas tree set up at all. She needed to clear out one corner of the living room to have a place for it, and for a while there, I wasn't even sure she'd get it done. But she did, which meant she also had to bring out all the boxes and boxes of Christmas ornaments that she's collected over the years.
Which also meant Binga had to get in the way. Fortunately she did not destroy anything.
None of these ornaments were handed down from previous generations, but some of them are several decades old because my human has been collecting them for most of her life. These are typical of the kinds of ornaments she collects.
Each one has meaning to her. She got the cat on the gold music symbols when she was primarily a rock journalist. She doesn't remember where she got the cat-in-the-box ornament, but she loves any ornament that moves or does something. Not everything she loves has a cat on it. The folk art bat ornament she got from an old catalog for Bat Conservation International. She loves bats and wants to protect them because they do so much good for the environment.
The cat in the rocking chair ornament is one of her oldest — it is probably from the 1980s sometime. If you look closely at the "New Home" ornament, you can see '96 written in the snow. That's the year the ornament was made — and the year she first bought her own home.
My human is always on the lookout for new Christmas ornaments, even during years when she never gets around to putting the tree up. In fact, she does not get the tree up all that often! These cat ornaments got put on a tree maybe once before this.
I don't think this one has ever been on a tree before.
Once my human gathered all the ornaments together, she began decorating the tree. I helped lots.
It was a lot of work, but we got it done!
Here is another view of the tree, from a kitty perspective!
Yes, there is only one present under the tree so far — because my human had only gotten one wrapped! She was up late wrapping the rest of them.
Okay, now there are two presents under the tree — because I am the best present of all!
* * *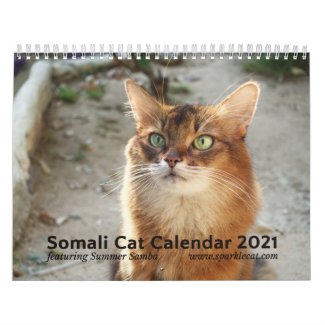 2021 Somali Cat Wall Calendar, Starring Summer
See all of Summer's merch at her
her Zazzle Designercat Shop