So we did a couple of things different for my next try at a Valentine's Day photo shoot. It looks like coating the glitter on the bag in hairspray worked — there was a lot less mess to clean up, both on the set with the lint roller and later on in Photoshop.
My human also tried something else different. If you look at the height of the bag, and how tall I am, it's obvious I can only peep over the top. Which is cute, but someone my human knows who makes films suggested she use an apple box for me. Apple box is a film term for a wooden box that's often used, among other things, for short actors to stand on to look taller. You can learn more about apple boxes in this Wikipedia page. Unfortunately, even the mini half and mini quarter apple boxes are still too big for me to use. So my human had to improvise.
This is a pretty cheap excuse for an apple box! I don't think that filmmaker guy will be impressed.
Still, I'm willing to give it a try. I don't think I have much choice anyway.
Hm. I have my doubts about this. Even at this size, the so-called apple box is a bit high. I was hoping to just maybe have my shoulders and head showing.
No matter! I'm still going to try to make it look good! How do you think I did?
* * *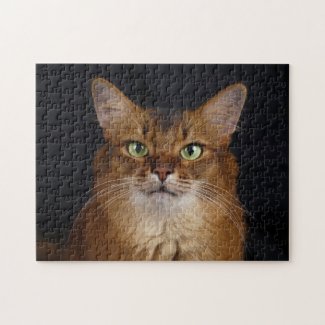 Somali Cat Photo Portrait Jigsaw Puzzle
See all of Summer's merch at her
her Zazzle Designercat Shop