Although my human and I are not wealthy on a 1% scale, we are better off than most. We live in a nice house and have enough money for a good life in a city that is not cheap. So when someone is in trouble or in need, we try to give back as often as we can. Because all of Sebastian's belongings were lost in last week's fire, I decided to put together some things for him. We have lots of scratchers here, so I figured we could do without one, and I have a toy chest that is overflowing with fun, so I knew I could part with some of it.
I paw picked the toys myself. I tried to choose a variety, since I am not sure what he favors.
I hope you like them, Sebastian! Maybe you can share some with Kathi's cat, CJ, when he is feeling better.
I also gave Sebastian my old favorite box, which is what is being used to ship these items. My new favorite box is actually the kissing booth from my Valentine's Day party. I used to sleep in the old box all the time, so it smells like me!
Boodie was a little bummed to give up the box.
My human also included something for Sebastian's humans, Amy and Lee, and she said that if they don't need it, there is almost certainly someone else from the fire who does. We are also sending Kathi a PetSmart gift card in the mail today.
I think being able to lend a helping paw is one of the best things ever!
* * *
---
---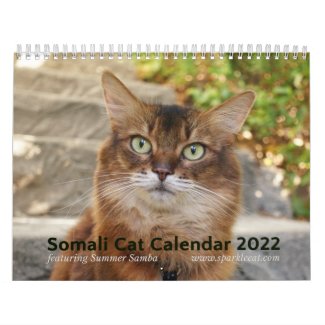 2022 Somali Cat Calendar Starring Summer Samba
See all of Summer's merch at her
her Zazzle Designercat Shop