A few weeks ago my human and I did a live interview with Emily of Kitty Cat GO about traveling with cats. It was lots of fun! And as a thank you, Emily sent us a few tokens of her appreciation. In case you couldn't guess, they came in this purple package.
The package included this nice thank you card.
And some stickers too.
But best of all, she gave me some handmade catnip toys! And they had been marinating in this bag all the way from Georgia!
Maybe you are wondering if I liked the catnip toys.
Or maybe not… because it's pretty obvious I did!
Thanks again, Emily! We really enjoyed being on your show.
I also did a quick video of me with the thank you gifts! You can see it below (make sure to watch to the end):
Other posts you'll enjoy:
* * *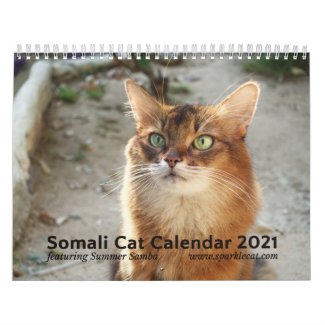 2021 Somali Cat Wall Calendar, Starring Summer
See all of Summer's merch at her
her Zazzle Designercat Shop