I've been on the internet since I was less than 6 months old, so you probably think you know everything about me — especially those of you who have been following me for years. Right? Wrong! I have a few random facts that may surprise you — here they are:
1. I once lapped up some balsamic vinegar, thinking that since it was brown, it would be tasty! It was not.
2. Once, when my human's boyfriend was taking some photos in the front yard, he left the door ajar, so I pulled it open and let myself out. He didn't realize I was outside, and when he went back in, he shut the door! I panicked and screamed to be let in (which he did)! My human did not even know this happened until he told her much, much later.
3. The best thing my human ever did: She caught a moth in her cupped hands, took me into an enclosed hallway and let it go. Chasing it was the best game ever — with a treat at the end!
4. Everyone knows I am a picky eater, but it did not truly begin in earnest until the pet food recall of 2007 — and my very favorite food got recalled! My human never did find a suitable replacement and had to go back to buying it when it returned to the shelves. Although I supposedly have some sort of intestinal ailment that has never completely been diagnosed, my human thinks that maybe the trauma of not getting my favorite food for months is the real cause of it.
5. I'm always talking about how much I love chicken, but I also love sardines, and sometimes my human will give me some as a treat. She likes sardines too.
6. I am a very gentle cat when it comes to humans and have never, ever bitten one. I can't say the same for certain other kitties here!
7. I am not gentle when it comes to other cats and get very fierce and territorial if I think somekitty is intruding! I've gotten very agitated seeing certain strange cats wandering outside.
8. The most I have ever weighed is 6 lbs., 2 oz. I am truly a small cat!
9. I love rubbing up against Binga when she is asking for breakfast — because it gets on her nerves!
10. The one time we three cats had to be boarded (because my human's old house was being fumigated), one of the people working there called me "the instigator." Probably because of the above mealtime trick.
I've told you 10 of my secrets — now it's your turn! In the comments below, I dare you to reveal one of your deepest secrets!
* * *
---
---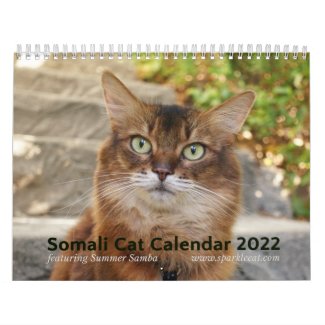 2022 Somali Cat Calendar Starring Summer Samba
See all of Summer's merch at her
her Zazzle Designercat Shop