When somebody posted a link to Target's pirate cat scratcher, my human decided I had to have it. There was only one problem — there wasn't a "buy" button for it on the Target website! And it wasn't available in our area. Undaunted, my human figured a workaround on the Target site and was able to order it. A week later, it showed up on our doorstep.
This label shows what the scratcher is supposed to look like, after assembly.
This is what was in the box… and six pages of instructions! Plus a link to a video online.
My human definitely needed the video to put this kitty pirate ship together. I have to give her credit for organizing the pieces in order of assembly. This was the first batch of them.
She managed to put together the back end of the ship without too much trouble. The front end had more pieces, but with the help of the video, it wasn't too complicated.
So here's the finished pirate ship! And of course, I had to dress up to pose with it. It's a little on the fragile side, to be honest.
I'm ready for a voyage, even if my pirate ship isn't!
I do want to report that while this ship will probably fall apart even before it hits rough waters, the scratcher parts all work well!
Although the pirate ship cat scratcher doesn't currently seem to be available, you can find other fun cat scratchers at Target here (affiliate link): https://goto.target.com/PX3kz
* * *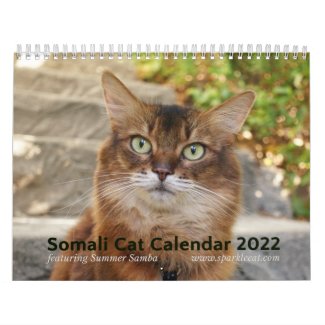 2022 Somali Cat Calendar Starring Summer Samba
See all of Summer's merch at her
her Zazzle Designercat Shop