This is the third time I'm at the Christmas tree for Sunday Selfies. I was here on Christmas Day and on New Year's Day too. But this this is a sad one because my human is taking down the tree!
All the ornaments have been removed and put into their boxes. Soon the tree will come down too. My human thinks this will be the last time for this tree. The plug for the lights isn't working so great anymore, and she doesn't really like its shape. So we may have a new tree next year. Anyhow, I'd better get around to my selfies before the tree gets taken away.
Let me see if this angle works for me.
Oops! Sorry, the camera slipped. I decided I'd rather put the camera farther away anyhow.
Okay, that works for me! I hope it works for you too.
* * *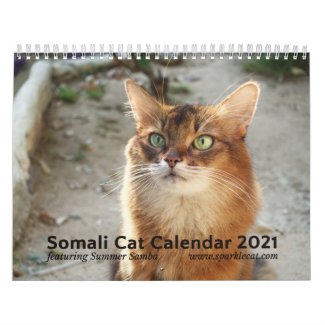 2021 Somali Cat Wall Calendar, Starring Summer
See all of Summer's merch at her
her Zazzle Designercat Shop