As you can probably tell from yesterday's post, my human has lots of plans for photo sessions. But today I was busy acting wild and running around the house. It was obvious I wanted a play break, so she pulled out some older toys and played with me in the turret.
I've had this peacock feather for quite a while, and honestly, it is on its last legs. But it's still got some life in it.
See what I mean?
I probably put a few new dents in it.
Then my human pulled out this toy. It's also kind of old and falling apart. You can see in the background, if you look really hard, that a small chunk of it fell out. And I don't think that was even my fault!
That was fun for a while. The thing is I play with toys for a few minutes and then get bored. So my human has to go get another one.
Or maybe it's just a way to convince my human to put down the camera and focus on just playing with me.
I hope you enjoyed my play break! And remember to take some time out every day to play with your own kitties. They may not work as hard as I do, but they need some fun exercise time too.
Other posts you'll enjoy:
* * *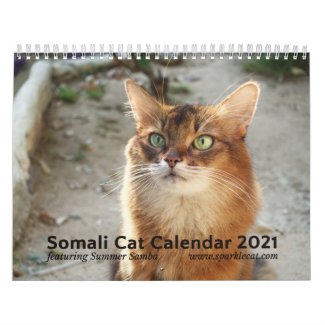 2021 Somali Cat Wall Calendar, Starring Summer
See all of Summer's merch at her
her Zazzle Designercat Shop