I imagine some of you have heard of the big heat wave we've been having here in southern California. We usually have temperatures over 100 degrees Fahrenheit a couple of times every summer, but over 110 degrees is something that just doesn't happen here! And on Saturday it was a sweltering 112 where we live, and 120 in some other areas. The bedroom half of our home has central air, so it has been cool there. But the ancient wall A/C unit where the living room and my human's office is, is no match for this intense heat. My human doesn't understand why we have still been choosing to be up here. But as creatures who originated in the desert, we can handle higher temperatures than she can.
I will be honest, none of us are inclined to move around much at the moment, so I think I will just do my selfie from the floor here.
Well, the focus is pretty lousy on this one! I will have to try again.
Well, this one would have worked if I hadn't overexposed it. Plus I didn't fill the frame, which is one of the photography tips I mentioned a couple of weeks ago. Which means you can see the clutter in the background! So I'm going to get up for just one selfie shot.
There we go! Much better. My human is taking her laptop downstairs to work, so I think I will join her.
* * *
---
---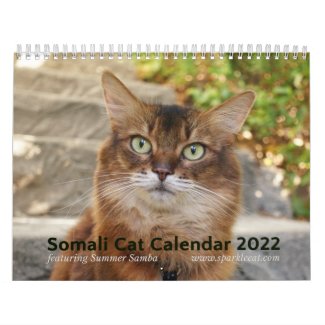 2022 Somali Cat Calendar Starring Summer Samba
See all of Summer's merch at her
her Zazzle Designercat Shop