I got so many compliments for my sunglasses poses in my original post, and my selfie. The thing is, it didn't all go perfectly, and I have these bloopers as proof! At first, the sunglasses came off a few times.
A couple of times they slipped off and they just hung there until my human put the camera down and fixed them.
I also had a lot of fun taking them off! It started to turn into a game — my human would put them on and I would whip them back off.
But eventually I realized that I actually got rewarded for leaving them on. That was a game-changer!
Once I figured that out, I was more than happy to leave them on for photos. A couple of times, though, I messed up. In this photo, got too excited and sat up… and the sunglasses fell off!
Now that I know I get treats for wearing the sunglasses, I don't make as many bloopers, but I hope you enjoyed these!
* * *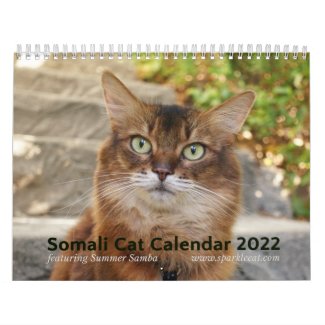 2022 Somali Cat Calendar Starring Summer Samba
See all of Summer's merch at her
her Zazzle Designercat Shop