My human found some mats on the lower part of Boodie's chest, so she took her to the enclosed patio and combed them out. Since she was FURminated a couple of weeks ago, it wasn't too much work. Also getting a quality diet helps — when my human started feeding her only grain-free canned cat food a few years ago, she matted way less than before. After grooming her, my human thought it might be a great opportunity for Boodie to do some selfies.
I guess not! Now you know why you never see Boodie doing selfies. So I guess it is up to me again.
First, let me get Boodie's old, matted fur out of the way.
Now, let me set the timer….
Oops! Two seconds was too fast. Let me set it to 10 seconds instead.
I don't like the angle on this one. Let me adjust the iPhone's position.
This one's pretty nice! I'm gonna tell Boodie she missed out.
* * *
Check out my Valentine's Day Collection on Zazzle!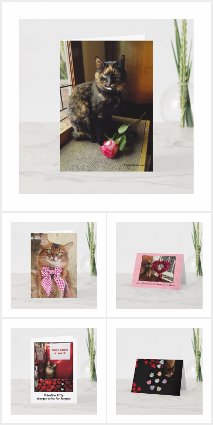 See all of Summer's merch at her
her Zazzle Designercat Shop