Can you guess what month I am working on for my 2019 calendar? That's right — November! Ha-ha, just kidding. I do have a story about this backdrop. It's a vinyl tablecloth my human got from Party City. But there was one problem: it had ugly creases from being folded up in the package. My human knew there had to be a way to get rid of them. So she Googled, "How to get creases out of flannel-backed vinyl," and what do you know, there was a way! She moistened a couple of small towels (not sopping, just damp all over), and put them in the dryer on "freshen" along with the table cloth. It took about four minutes to get the creases out! So now she can use cheap, fun tablecloths for backdrops more often.
I tried a few different wardrobe changes for this summertime shoot. For a while I just wore my straw hat.
I was very good for a lot of the photos, but of course, there were other problems. Keeping the glare off the sign was a challenge. And just because we got the creases out of the backdrop, that doesn't mean it didn't have other things going on. Like here, you can see it got kind of messed up on one end. I tried telling my human it needed to be fixed, but she didn't pay attention.
By the time I put on my bikini, my human had straightened out the backdrop. But then my tail was sticking out past where the tablecloth ended. My human kept curling my tail, but I kept moving it back. If you are a human, you know how sometimes when people are taking your photo, you don't know what to do with your hands? We kitties are like that with our tails.
Eventually, she got rid of the sign altogether, and just photographed me in my bikini. I had more awkward tail moments.
That was a lot of work! I was glad when we finished.
* * *
---
---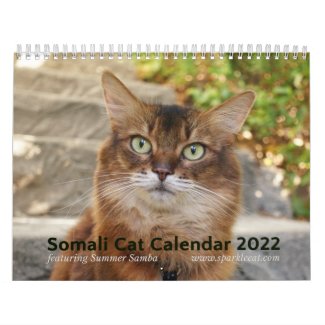 2022 Somali Cat Calendar Starring Summer Samba
See all of Summer's merch at her
her Zazzle Designercat Shop