Something I haven't done much of lately is model any dresses. This is mainly because in spite of searching, my human hasn't found any cute new dresses for me to wear. The pet fashion industry has gotten pretty bad in the past couple of years! But I do love wearing dresses (yes, I'm kind of a weirdo), so my human set up a summertime modeling session for me in the front yard with one of my favorite dresses.
It's been so long since I've worn this dress, in fact, that my human forgot it has a Velcro fastener, and it's not a slip on! Don't worry, we got that figured out quickly.
Can you tell how much I love modeling dresses?
I can still strike those haute couture poses!
Even the advanced ones!
I also got a chance to walk around the front yard.
I paused to strike some poses by the garden.
I ended my outing by relaxing on the concrete table and doing some bird watching. When my human said it was time to go in, I jumped right down and trotted to the front door. Yes, still wearing my dress!
Oh, and for those of you who enjoy them, here are my floofy paws.
Other posts you'll enjoy:
* * *
---
---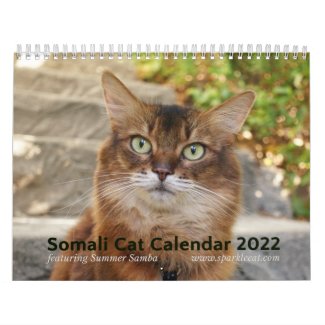 2022 Somali Cat Calendar Starring Summer Samba
See all of Summer's merch at her
her Zazzle Designercat Shop