That's right — that pipsqueak has been sent packing. This is my blog now!
First on my agenda is deleting every blog post that I am not in! Because who wants to see those anyway?
Every blog post will have me and nothing but me, because I know that is what people want anyway. Amiright? So here is the schedule:
Monday: A nice portrait of me.
Tuesday: Since it is Tortie Tuesday, I will use this day to impart wisdom and advice.
Wednesday: Cool photos of me in action. I will include the other cats in these photos if I am whapping them.
Thursday: This is when you leave comments saying how thankful you are for my daily presence in your life.
Friday: Flashbacks of highlights from my life.
Saturday: In which my human creates brilliant art from images of me. I expect her to spend most of the week getting these masterpieces together.
Sunday: Selfies of me!

If you do not like this, you will have to deal with my wrath!
April Fool!
Had you fooled, didn't I?
At least I think it was a joke!
* * *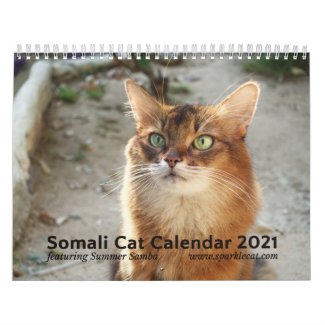 2021 Somali Cat Wall Calendar, Starring Summer
See all of Summer's merch at her
her Zazzle Designercat Shop