So I guess you want to know more about me since I've inherited Sparkle's blog. My full name is Tajhara Summer Samba, but I want you to know I am not as snooty as my name! I'm just a regular, everyday 5-month-old kitten who happens to compete in cat shows (I've done three so far) and who is in training to become a therapy cat. I'm very outgoing and I love people and new experiences. Well, I guess that doesn't sound very regular! But I do play with things I'm not supposed to (my new human had to move her stash of plastic bags out of my reach), and I get crazy a few times a day — and that's pretty regular, right?
When my new human came to get me, I was doing a cat show in Costa Mesa. It was going on both Saturday and Sunday and my breeder let my human take me to her hotel room for the night. The first thing I noticed when I got there was that she uses more product than me! I have to have a bath and be groomed for shows, but I like to keep it simple. My new human isn't competing with anyone, and she works twice as hard on herself!
My new human seems fairly smart about cat toys. My breeder brings a bunch for the shows, and my human was very good about picking out the ones that were, in my opinion, the most fun! I like toys that both sparkle and make noise.
I came to my new home on Sunday night. At first I thought it was fantastic — I had a whole big living room and an office all to myself! Plus this cool staircase!
But then the next day, I woke up to a whole bunch of noise and banging and guys talking loud. Apparently this has something to do with a wall, although there is no wall I can see right now, just dirt and ditches. My human gathered up her MacBook from her office and moved it, and me, into some cluttered room in another part of the house where the banging sounded far away. She says she did this more for her than for me — she wanted it to be more quiet while she is working. She says she was hoping the wall would have been done before I came home, but maybe it is just as well, as I will learn not to be upset by loud noises. I was a little upset about the cluttered room! It's like an obstacle course, and not in a fun way! It's impossible to zoom around in here!
Since I was stuck in this cramped room, I decided to get started on the big job of learning how to supervise my new human. She received copies of my registration papers my first day here.
Even better, I got to check out lots of blog posts from all my new friends! I am so happy that so many of you have welcomed me so warmly! More warmly than the other two cats here. So far both of them have hissed at me and said a couple of not-very-nice words, but they don't seem like they want to hurt me or beat me up, so maybe we will be pals some time soon!
I know that following in Sparkle's paw prints is an impossible task, so I will have to make my own.
* * *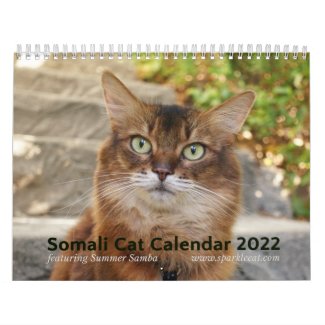 2022 Somali Cat Calendar Starring Summer Samba
See all of Summer's merch at her
her Zazzle Designercat Shop