Unless you live in southern California, you may not have known about the brief November heat wave we had Sunday, and Monday too. It was in the 80s! In late autumn. At least my human didn't have to put on a sweater when she took me out back in the afternoon.
We are already getting some green on our backyard hill. I'm worried that if it doesn't cool off soon, it's going to turn brown again.
It was so warm that I even got to wear one of my summer frocks! You might notice I have one paw up. That's because my human placed me on the semi-damp ground and I didn't want to get my paws dirty. Yes, I am truly a girly girl.
Eventually my human convinced me to put all my paws on the ground, and I spent some time looking for the outside kitties. They were around when we came out but they ran off when they saw us.
My human and I also practiced some tricks while we were out. I wonder what the outside kitties think when they see me out here, on a leash, in a dress, and doing tricks. Maybe they don't believe I really am a cat.
A neighbor dog started barking at me, and that was annoying. I was ready to go back upstairs anyway.
Other posts you'll enjoy:
* * *
---
---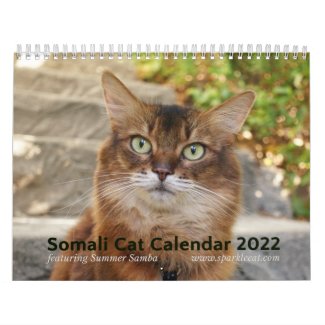 2022 Somali Cat Calendar Starring Summer Samba
See all of Summer's merch at her
her Zazzle Designercat Shop