No, this is definitely not my happy face! Well, you would not be happy either if you were stuck in a car with a flat tire, and it was next to a very noisy car wash in Covina. And that's about as far as my human and I got to Palm Springs this weekend. Covina, for those who don't know, is less than a quarter of the way from Los Angeles to Palm Springs. So I am not at the cat show today, like I should be.
The day did not start off good either! When the humans woke up, Binga wasn't feeling well. She was off her food the night before, too. So my human called the vet and managed to get her a morning appointment. The vet looked her over, and ordered blood work on her, but the only thing she could do right then was give her some anti-nausea meds and fluids. Binga wasn't in bad shape, mostly feeling off. She really just needed to sleep away whatever was bothering her, so my human decided we could go to Palm Springs anyway. There was nothing she could do for Binga and we were coming back straight after the cat show, she figured. Well, we didn't even make it that far!
Here I am, in the tow truck, watching my human's Mini Cooper being loaded onto the flatbed. What happened? She ran over a bad pothole, even though she tried to avoid it. The problem with Mini Coopers is that they're low to the ground, and potholes can irreparably damage tires a lot more than with other cars. The tire didn't go flat immediately, but it was leaking air from a tear that couldn't be repaired. So she called AAA and got a tow to the nearest AAA-approved auto repair, also in Covina.
Here is the other problem with Mini Coopers. Their tires are supposed to be self-repairing, so they don't have spares. And their tires aren't always available. Like today.
So my human and I had to sit in the auto repair shop office, waiting for a cheap tire that was the right size as a temporary fix.
My human was fascinated by this Snap-On Tools figurine. She really wanted to ask about it, but she forgot with all the car stuff. Later, when she Googled it, she found one image of it, and apparently it talks when the tool box opens. Too bad she didn't know when it was right in front of her!
I was good for a while, but then I kept wanting to jump on the desk. And my human didn't want to let me wander and explore the auto repair shop. So do you know what she did?
She put me back in my Sleepypod! But I was polite and did not complain. At least not much.
I even thought that maybe this would be a good time for a selfie for my Sunday Selfies post.
But even that was a bust. After spending a few hours getting the cheap tire delivered and put on the car, my human and I went home. She didn't want to drive nearly 90 miles to Palm Springs and 110 miles back with that tire. It was rush hour, so it took us an hour to drive 23 miles. Binga was a teensy bit perkier, and my human was a lot less perkier by the time we arrived. Boodie was just wondering where dinner was.
* * *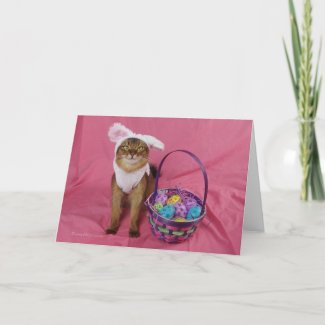 Hoppy Easter Somali Cat Holiday Card
See all of Summer's merch at her
her Zazzle Designercat Shop