After I reviewed Emmy's new kids' book, I decided I wanted to go for a stroll. My human put a spring dress on me. Can you tell how happy that made me?
Usually my human puts me down when I want to go walking, but this time she said I had to jump. I wasn't used to that, which I guess is obvious!
But I did jump, and the fresh grass felt so good that I kept making happy paws.
So I walked around the front yard and enjoyed the late afternoon. The weather is perfect right now.
I got to stay out for a really long time and watch birds and enjoy the sunshine. The only reason we wound up going inside was because it was dinnertime.
I posted one of the photos from my afternoon on my Instagram account, and one of the hashtags I used was #springdress. And can you believe that for a while, I was trending for that hashtag? It was pretty funny!
* * *
---
---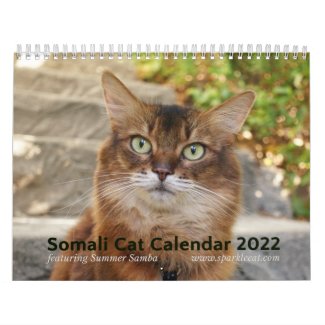 2022 Somali Cat Calendar Starring Summer Samba
See all of Summer's merch at her
her Zazzle Designercat Shop