We have a window with shutters that faces west, and at certain times of the year, the shutters create cool, stripey shadows. My human uses these opportunities to take photos of us cats… at least if we are cooperative! I usually am, of course. And this time, I thought it would be fun if I took the iPhone and created some stripey selfies myself.
I just need to set the exposure properly on the iPhone. I have to manually adjust it or it will be too light.
Well, that looks terrible! It's out of focus and there are just random light patches on my face. I forgot about the part about getting the stripes in the correct places.
That's much better! Except for the clutter in the background — didn't I say something about that in my photo tutorial the other day? I need to take this up with my human.
Oh, look who's here. I should have known she wouldn't stay away for long.
In case you are wondering, she also did that while my human was taking photos too.
* * *
---
---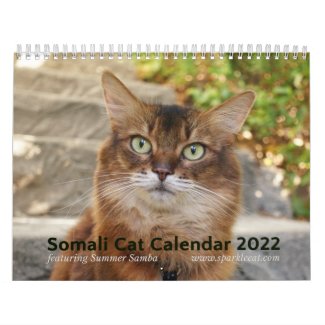 2022 Somali Cat Calendar Starring Summer Samba
See all of Summer's merch at her
her Zazzle Designercat Shop