It's Straw Hat Day! And I have three outfits to wear, each one featuring a straw hat.
Especially notable is this particular hat. I've had it for over three years, but it had the ugliest, most ill-fitting chin strap ever.
See what I mean? It took my human until, well, Friday to finally get something to replace that chin strap. So let's see how these looks work!
The first one is also my least favorite. The dress, of course is fine, but the hat has never worked for me. It's not small enough to be a cute tiny hat, and it's not big enough to look good on my head. We only gave it another try because it's my only straw hat that's not a natural straw color. And because my human is stubborn.
It's too bad the colors aren't that accurate in this photo because the flower on the hat actually came close to matching the flower on the dress. I've worn this hat many times with a variety of outfits. So it's sort of old hat to me! (Yes, you have a right to groan.)
I'm glad this hat finally got fixed because it works really well with this dress… and a lot of other things I'm sure. Plus it's comfortable enough to eat treats without having to take it off. (Always the sign of a proper hat… and you can quote me on that.)
So what do you think? Do you have a favorite look here? Let me know in the comments!
Other posts you'll enjoy:
* * *
---
---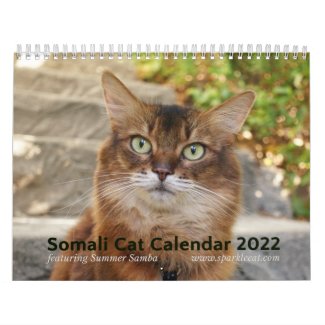 2022 Somali Cat Calendar Starring Summer Samba
See all of Summer's merch at her
her Zazzle Designercat Shop