After my video assignments last week and getting to hang out outside a few days ago, it was clear I wanted more. So my human took me to the pet shop to buy a few things. She says that bringing me along makes the trip take twice as long… but it's three times the fun.
As soon as we came through the door, I wanted to wander around and look at things. So my human let me, even though none of the aisles I wanted to go to had what she was looking for.
It's a fairly big store for an indie, and my human is always keeping an eye out for dogs. At one point she thought she heard the jangle of a dog collar on a leash, so she quickly stuffed me my sling carrier. But it just turned out to be one of the employees with a metal cart full of cat food. So she let me back out to wander. Eventually a real dog did show up, so I had to go back in the sling while she picked up the other stuff we needed.
The good part was there was a Barnyard Buddy catnip toy display on the counter. So I did what I always do with these. My human says I only get away with this because I am cute.
Also I got petted by the human behind the cash register. Which is always nice.
Other posts you'll enjoy:
* * *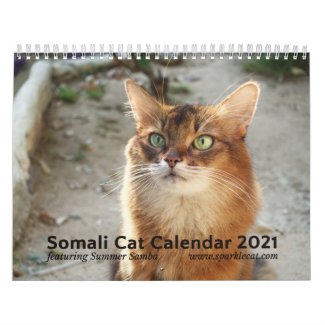 2021 Somali Cat Wall Calendar, Starring Summer
See all of Summer's merch at her
her Zazzle Designercat Shop