I've been stuck at home because my therapy cat visits and cat shows have been cancelled or postponed. So my human decided to take me out shopping on my birthday! We were stocking up on supplies because she wants to be out as little as possible over the next few weeks. The "shelter in place" decree by our state allows trips for essential things like groceries and cat food, but that doesn't mean she wants to do it more often than necessary.
I was so happy to be out I was dancing and making happy paws for a good part of our shopping.
I haven't been to this store in a while, and it was quiet this trip. One of the staff asked to shoot some video of me because she is training her kitten to walk on a leash.
I was happy to explore and wander all over the place.
I happily rubbed on lots of different things, even though my human kept trying to stop me. Finally she said, to no one in particular, "Oh well, she needed a bath anyway."
Wait, what?
* * *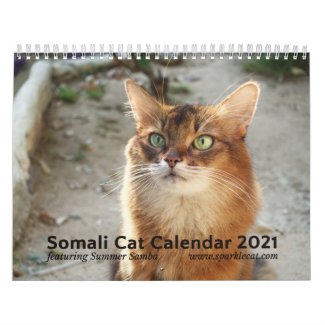 2021 Somali Cat Wall Calendar, Starring Summer
See all of Summer's merch at her
her Zazzle Designercat Shop