My human took me out front yesterday and made me do "stay" practice. She wants me to stay still better in distracting situations, and the front yard is the busiest part of our house.
According to her, I've gotten more squirrely and fidgety and I need to focus better. I think she should apply her criticism to herself. She's not exactly so still and calm herself.
Okay, I admit, it is kind of hard to "stay" when there are birds flying around!
When a helicopter flew by right over our heads, I really did not want to stay, but my human made me.
I just want to say, I got a treat for not bolting when the helicopter flew by.
I will be honest — practicing "stay" is kind of boring! I hope I haven't bored you.
* * *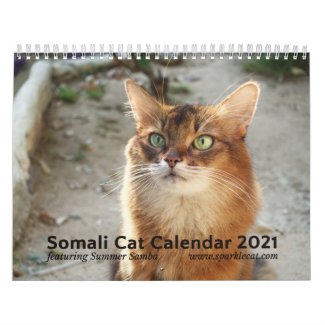 2021 Somali Cat Wall Calendar, Starring Summer
See all of Summer's merch at her
her Zazzle Designercat Shop