Remember my selfie from last week? I was hoping that today I would be able to show you the finished stairs and take some selfies. There is only one problem.
They still aren't completely done! Originally, they said it was a three day job and that was nearly a week and a half ago.
They did clear out the old concrete and sawed-off pieces of wood, and a lot of other stuff. But the patio is still a wreck. At least the stairs are almost nearly done. They laid down the concrete at the top yesterday but it was still wet when it was getting dark, so they couldn't finish the last part. I can show you what we have.
See? They actually did a pretty good job, although they took such a long time! I think this is a good place to take my selfie, don't you?
Well, this wasn't very good! I was hoping to get the stairs in the background.
That was kind of a misfire — it's blurry, plus I'm partly cut out of the frame.
I think I got it this time! I'm happy with this — I hope you are too.
* * *
---
---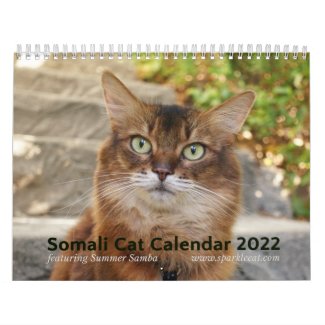 2022 Somali Cat Calendar Starring Summer Samba
See all of Summer's merch at her
her Zazzle Designercat Shop