You gotta figure with all that stair climbing the other day, there would be outtakes… and there were! Like the one above of me giving a raspberry.
Here I am, marking the stairs to the backyard as mine. Of course I had to — we get all sorts of critters around here! I spent so much time doing this, I caught my human impatiently tapping her foot, waiting for me to finish.
And… surprise! There was a whole nother set of stairs that my human forgot to add into the stairs blog post! These lead to a small, unfinished workroom underneath the living room. Since last year, it got filled with ducts to add an air conditioning unit to the room. Which already needs to be replaced because it does not work very well.
Enough of the stairs. Once again, we have a guest appearance by… my human's hand! You can see the disappointment in my face. I really hate when she does that.
And finally, we are ending the way we started… with me giving a raspberry! I hope you enjoyed this week's outtakes. I will probably have more for you in the near future!
* * *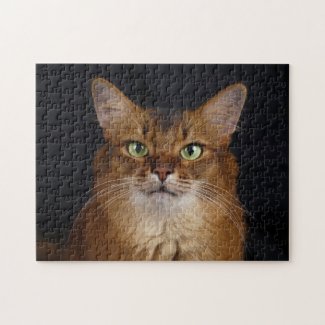 Somali Cat Photo Portrait Jigsaw Puzzle
See all of Summer's merch at her
her Zazzle Designercat Shop