For this St. Catrick's Day shoot, my human was a little more prepared than the last one. She thought she had lost a bunch of St. Patrick's decor she used to have… but she found it! So, she added it to some of what she got this year and rearranged it a bit (this time with some thought behind it). And this is what we ended up with.
This hat is a lot simpler than the other hat, but it is much easier to wear. Although I do like them both!
The bow is from a few years back. Since my human doesn't sew, she just sort of clipped it together to fit my neck. Which you can see in this shot. You weren't actually supposed to see that.
For a few photos, my human cleared the set and just had me pose on the backdrop.
At some point, she also cadged together this shamrock collar… except the shamrock is sort of big and awkward. I didn't have to wear it for very long because it was pretty clear it looked dumb.
And here I am, wearing nothing but my green eyes, surrounded by random St. Catrick's Day decor.
I hope you enjoyed my St. Catrick's Day photos as much as I did posing for them!
* * *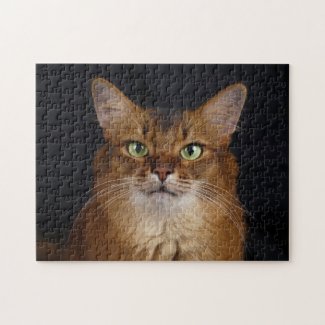 Somali Cat Photo Portrait Jigsaw Puzzle
See all of Summer's merch at her
her Zazzle Designercat Shop