I always keep an eye on the goings on around the back patio in the mornings. That's when the squirrels are most active, and causing mayhem. My human was working at the computer the other morning (as she always is) and she heard a crash outside. She looked over and saw me at attention, so she knew something was up. She peeked outside, and there was one of the clay planters on the concrete, broken. Around the corner of the enclosed patio, she could just barely see a squirrel, twitching its tail.
Of course I wanted to investigate, so my human took me outside to examine the wreckage.
I also took a quick break to check out how my catnip garden was doing. Can you blame me?
Anyhow, the broken planter and dirt were a mess! Fortunately, there wasn't a plant in the planter. And the planters were left behind by my human's ex, so it wasn't any real loss. But still.
When I find the squirrel that did this, I'm going to hold him responsible for damages!
Other posts you'll enjoy:
* * *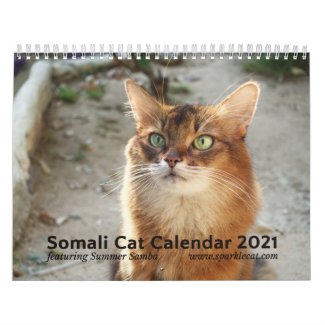 2021 Somali Cat Wall Calendar, Starring Summer
See all of Summer's merch at her
her Zazzle Designercat Shop