I hope you are having nice spring weather right now! It is beautiful here this week, so I wanted to go outdoors to celebrate spring reading for kids. Especially because the human at the 15 and Meowing blog has a new book out about my pal, Emmy!
It's all about how Emmy was homeless and almost didn't find a new family because she was mistaken for a skunk!
My favorite part of the book is that Emmy has spunk! She is a little bit annoyed about getting accused of being smelly! So instead of always feeling sorry for her, you get to laugh with her too.
This was a really sweet and charming book, and I hope you get a copy of it! If you hurry, you can enter the Amazon giveaway. It ends at Midnight, Pacific Time on Wednesday, April 24, so you had better do it now!
If you miss the giveaway, or you don't win, you can click here to buy a copy.
* * *
---
---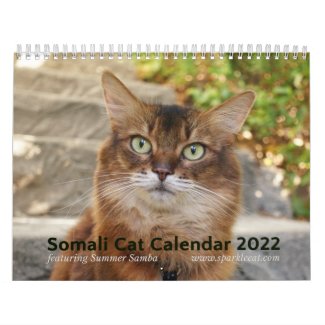 2022 Somali Cat Calendar Starring Summer Samba
See all of Summer's merch at her
her Zazzle Designercat Shop